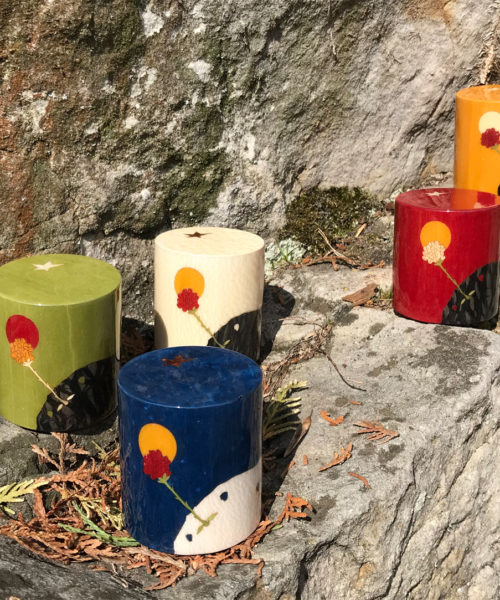 Urns and coffins for farewells with dignity and great style
The focus of our work is to offer people a unique last dress on their final journey. People wish for loved ones to have a dignified farewell with expression.
Handcrafted Art Funeral urns & caskets, can express the positive feelings for loved ones who have passed away. Through the designs, colors and expressive woods, connections to characteristics and features of the personalities mourned will be made visible.
At funeral ceremonies and thus in the memories of the mourning community, this last image is perpetuated, before the burial of the decorative urn or coffin. In places of mourning, where the urn is kept visible, it gives a sense of peace and comfort.
Our keepsakes "Fenice" , urns & coffins are designed not only for a quick goodbye, but also for helping with the mourning process. Our "Fenice" memory keepers are also chosen by and for children when, for example, a parent passes away at an early age. A variety of rituals are also possible with the Fenice, for mourners with a wide range of relationship constellations to the deceased.
Art Funeral Urns and Coffins are 100% «handcrafted with love in Italy»
From the first second we design our extraordinary urns & coffins sustainable for people who care about a combination of style, craftsmanship and transience with love for nature even beyond death.
Art Funeral's artisans make urns and coffins largely by hand and 100% in Italy, at Caravaggio in the province of Bergamo. 35 kilometers from Milano.
Our designs represent sure Italian sense of style, love for detail and unique feeling for materials. Art Funeral urns thus have character and stand for personality, including Italian spirit.
Art Funeral urns and coffins are harmonious in themselves and unique in recognition. The different models harmonize with each other, which is why the urns also work together like a complete work of art. Thus, each type Art Funeral urn and coffin fulfills the individual's need for uniqueness. They harmonize with any decoration – even reduced to a minimum, or with a lush flower arrangement. In the center of perception always remains the urn and thus the loved one.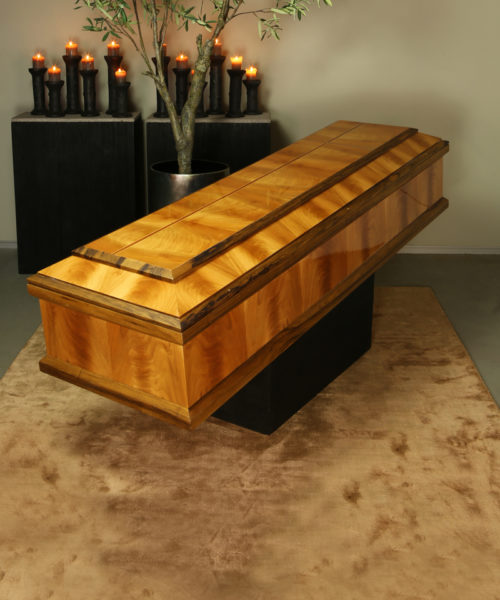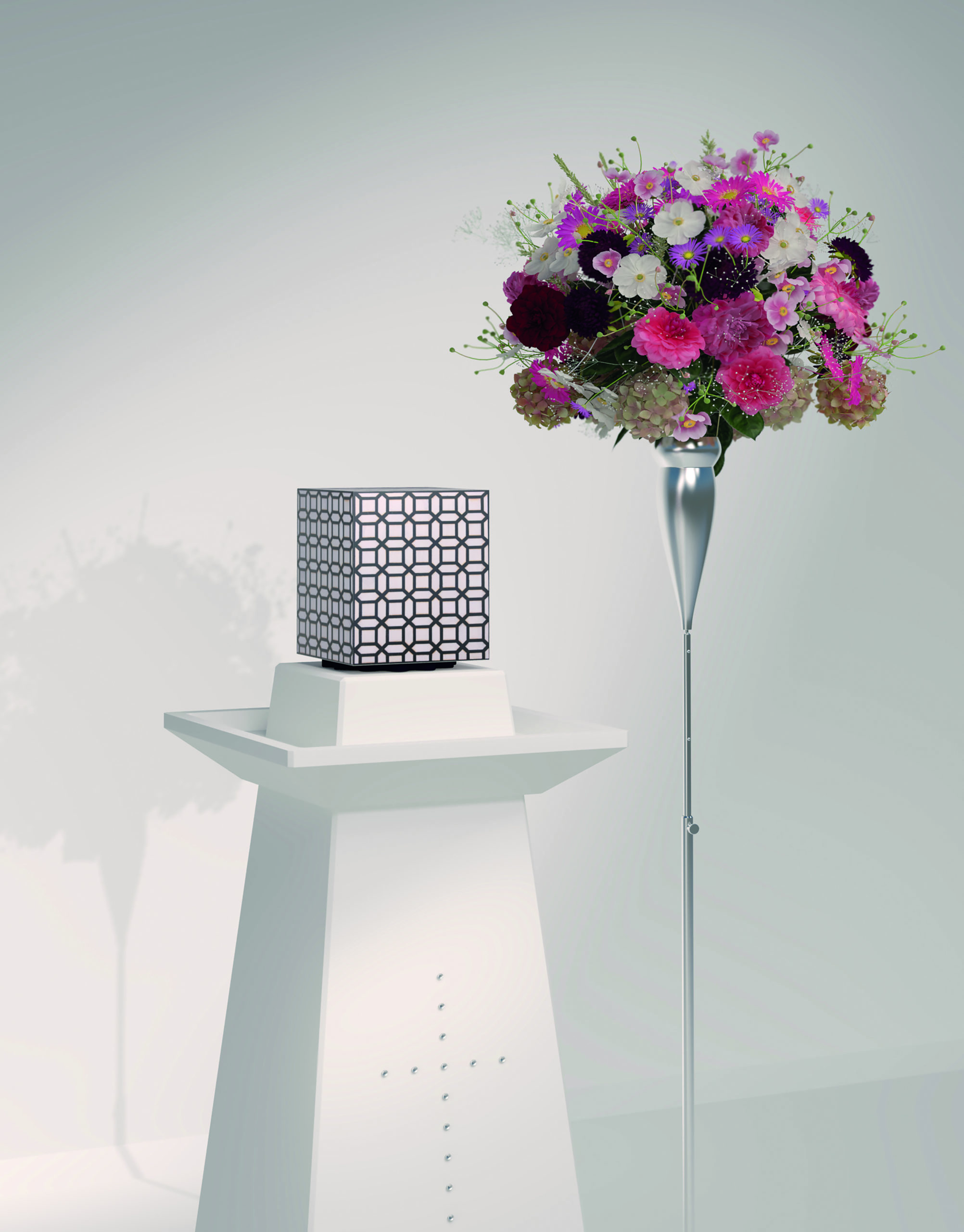 Art Funeral – Each urn is unique!

Art Funeral urns are wooden urns. The uniqueness can be found in the character of the woods, in the color variations, the grains and in the playful material combinations.
Our designs are created in-house, often inspired by our customers, distributed worldwide and from different cultures.
We bring beauty and lightness to funeral culture. Our solutions, for example light decorative urn carriers, which can also be carried by mourners, are created in cooperation with craftsmen and artists in individual production.
Art Funeral urns are suitable for burial in the ground, for columbaria or also for your personal private "memory room". The matt lacquered urns are very much buried in natural burials, e.g. in forests, and are accepted without any problems after consultation with the operators.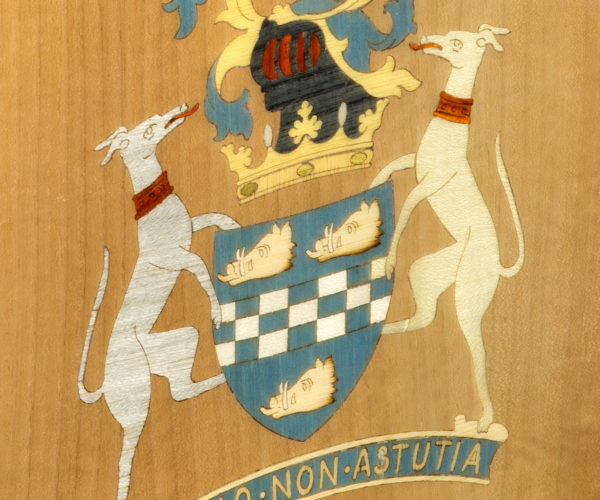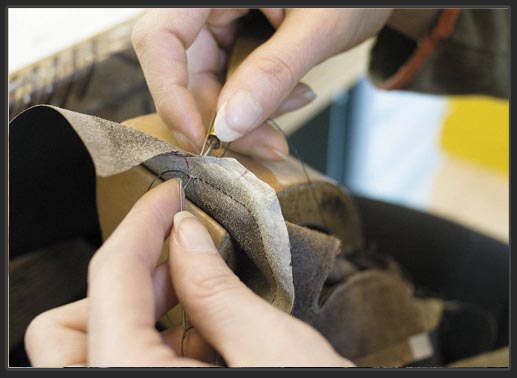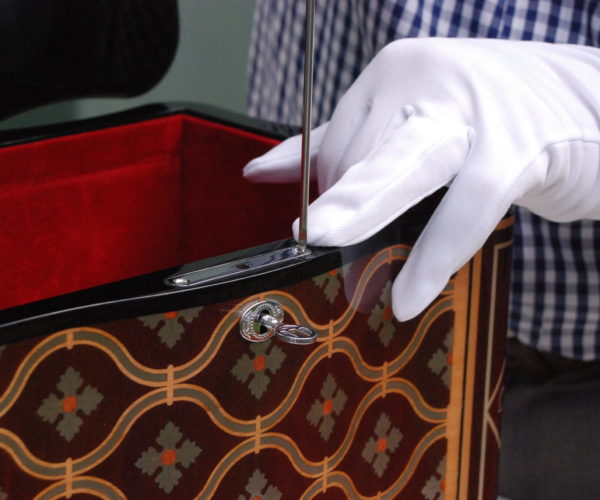 Manufacture
With us, you have the opportunity to design coffins and urns according to the uniqueness of the person through the centuries-old tradition of marquetry. More and more of our customers order their coffins and urns during their lifetime so that they can be individually designed according to their ideas.
Therefore, we have individualized coffins and urns with marquetry of family crests, personal symbols and pictures. These are memories of loved persons, individual faiths, passions and their very own meanings in the form of symbols and pictures.
We accompany you using our experience and knowledge of design, forms materials, symbolism and feasibility to fulfill your expectations of the highest authenticity and exclusivity. Every Art Funeral urn and coffin has the signature elegance and playful originality of Italian design.
Marquetry & Inlay Coffins & Urns
Marketerien are works of art in elaborate work by hand. Veneers are cut and laid so that patterns and images are created. After that they are attached to the carrier materials.
Art Funeral uses over 100 selected rare materials, which are unique by nature and the elements. With our suppliers of veneers we pay attention to the origin, sustainability and certification of the materials we use.
The art of combining different materials with each other to create an expressive message has an effect on their viewers like pictures. Each viewer of the marquetry can invent and read the messages in his memory of the person to whom it is dedicated. Intarsia is made only from the material wood. Art Funeral urns and coffins with marquetry laid only from wood are inlaid coffins and inlaid urns.
Caveau Swiss, Art Funeral and the people behind
Caveau Swiss Sagl is the owner of the Art Funeral and Tresor d'Amour brands, under which it distributes handcrafted products with marquetry and inlay worldwide. Art Funeral develops, designs, manufactures and distributes products for the funeral market. Our new products and designs are the result of discussions with our customers and the examination of different cultures and funeral rituals. Impulses and ideas are absorbed by us worldwide.
Our design, development and manufacture are 100% in Northern Italy, nearby Milano. In this process of creation of the unique Art Funeral urns and coffins Eva Adam, Marco Frank and Paolo Imeri work together in the creative mix of cultures.